New Resource from National Comprehensive Cancer Network Breaks the Silence on Common but Lesser-Known Cause of Cancer Deaths
New NCCN Guidelines for Patients: Blood Clots and Cancer provides much-needed education about recognizing and preventing the rarely-discussed cancer-associated consequence that is a major cause of death and morbidity.
PLYMOUTH MEETING, PA [September 7, 2023] — The National Comprehensive Cancer Network (NCCN®) today announced the publication of a new supportive care patient guideline focused on preventing and treating cancer-associated blood clots, also known as venous thromboembolism (VTE). Research shows that people with cancer are nine times more likely to experience blood clots than those without cancer. Blood clots are a leading cause of death for people with cancer, second only to the direct effects of the cancer itself.1,2
The book is available to download for free at NCCN.org/patientguidelines, or via the NCCN Patient Guides for Cancer App, thanks to funding from the NCCN Foundation®. Printed versions are available for a nominal fee at Amazon.com.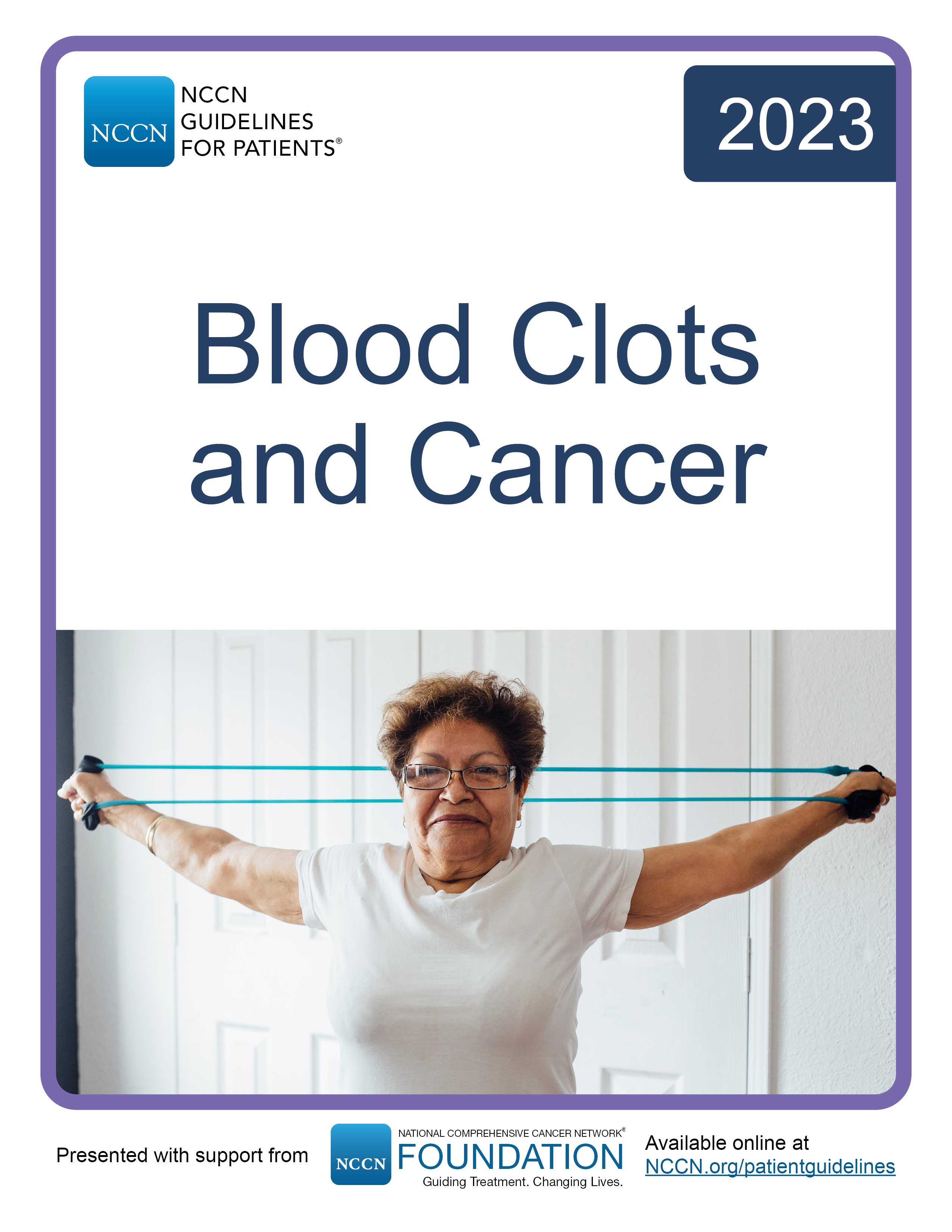 The NCCN Guidelines for Patients®: Blood Clots and Cancer is based on the NCCN Clinical Practice Guidelines in Oncology (NCCN Guidelines®) for Cancer-Associated Venous Thromboembolic Disease. The gold-standard resource synthesizes the latest evidence and expert consensus to recommend the best options for patient care. It is regularly updated by a multi-disciplinary panel that includes cardiologists, radiologists, surgeons, pharmacists, and other cancer care professionals from leading centers across the country. Their recommendations are based on more than 600 peer-reviewed research articles. This new patient guideline puts NCCN's medical recommendations into easy-to-understand terms, including images, charts, and suggested questions to ask.
"We don't talk about blood clots enough in oncology, but we're getting better," said Michael B. Streiff, MD, FACS, Professor of Medicine, The Sidney Kimmel Comprehensive Cancer Center at Johns Hopkins, Chair of the NCCN Guidelines® Panel for Cancer-Associated Venous Thromboembolic Disease. "Not only do tumors put people at risk for blood clots, but cancer treatments can also put people at risk. These patient guidelines will educate patients and caregivers about what we can do to prevent clotting, how to recognize the symptoms, and what treatments are available if they experience pulmonary embolism or deep-vein thrombosis."
"Cancer is a strong risk factor for developing a blood clot, and thrombosis is the second leading cause of death in patients with cancer. Yet, despite the known link between blood clots and cancer, there is still a lack of awareness about thrombosis risk in patients with cancer," noted Aviva Schwartz, MA, Director, Content and Education, North American Thrombosis Forum. "It's critical to address this knowledge gap and encourage open conversations between patients and healthcare providers. These guidelines are an important step forward for patients with cancer and their family members and caregivers."
According to Dr. Streiff, symptoms of blood clots can sometimes be vague or surprising. He noted that people with cancer should talk to their doctor about any changes in their body, particularly if they experience swelling, redness, deep muscle aches in the legs or arms, shortness of breath, chest pain, back pain, or lightheadedness.
Risk assessment tools for VTE have advanced in recent years, helping doctors to understand which patients should pro-actively receive medications like anticoagulants (sometimes referred to as blood thinners), and also who should avoid them. The medications have been evolving to be safer and easier to take. They are often available in pill form and are less likely to be associated with unwanted bleeding.
NCCN's patient resources have received several awards for high-quality patient information and have been translated into more than a dozen different languages. There are currently more than 65 different guidelines available, covering treatment for most types of cancer as well as screening and prevention. The NCCN Guidelines for Patients also cover other supportive care topics, including preventing and managing anemia, graft-versus-host-disease, nausea and vomiting, immunotherapy side effects, and survivorship. Preventing and treating blood clots is also discussed in several relevant disease-specific NCCN patient guidelines, including for pancreatic cancer, multiple myeloma, and myeloproliferative neoplasms. Visit NCCN.org/patients for more information.
# # #
About the National Comprehensive Cancer Network
The National Comprehensive Cancer Network® (NCCN®) is a not-for-profit alliance of leading cancer centers devoted to patient care, research, and education. NCCN is dedicated to improving and facilitating quality, effective, equitable, and accessible cancer care so all patients can live better lives. The NCCN Clinical Practice Guidelines in Oncology (NCCN Guidelines®) provide transparent, evidence-based, expert consensus recommendations for cancer treatment, prevention, and supportive services; they are the recognized standard for clinical direction and policy in cancer management and the most thorough and frequently-updated clinical practice guidelines available in any area of medicine. The NCCN Guidelines for Patients® provide expert cancer treatment information to inform and empower patients and caregivers, through support from the NCCN Foundation®. NCCN also advances continuing education, global initiatives, policy, and research collaboration and publication in oncology. Visit NCCN.org for more information.
About the NCCN Foundation
The NCCN Foundation empowers people with cancer and their caregivers by delivering unbiased expert guidance from the world's leading cancer experts through the library of NCCN Guidelines for Patients® and other patient education resources. The NCCN Foundation is also committed to advancing cancer treatment by funding the nation's promising young investigators at the forefront of cancer research. For more information about the NCCN Foundation, visit nccnfoundation.org
---
[1] Mulder, F I et al. "Venous thromboembolism in cancer patients: a population-based cohort study." Blood vol. 137,14 (2021): 1959-1969. doi:10.1182/blood.2020007338
[2] Khorana, A A et al. "Thromboembolism is a leading cause of death in cancer patients receiving outpatient chemotherapy." Journal of thrombosis and haemostasis : JTH vol. 5,3 (2007): 632-4. doi:10.1111/j.1538-7836.2007.02374.x