Terrance Mayes, EdD, and Loretta Erhunmwunsee, MD, FACS, Announced as Leaders for NCCN Forum on Equity
National Comprehensive Cancer Network's new Diversity, Equity, & Inclusion (DEI) Directors Forum is working together to improve diversity of clinical staff representation across nation's leading academic cancer centers.
PLYMOUTH MEETING, PA [January 17, 2023] — Today, the National Comprehensive Cancer Network® (NCCN®) announced the appointment of Terrance Mayes, EdD, of the Stanford Cancer Institute as Chair of the NCCN DEI Directors Forum; Loretta Erhunmwunsee, MD, FACS, of City of Hope National Medical Center has been named Vice-Chair. They join more than 20 experts on diversity, equity, and inclusion in health care from leading academic cancer centers across the United States that comprise NCCN.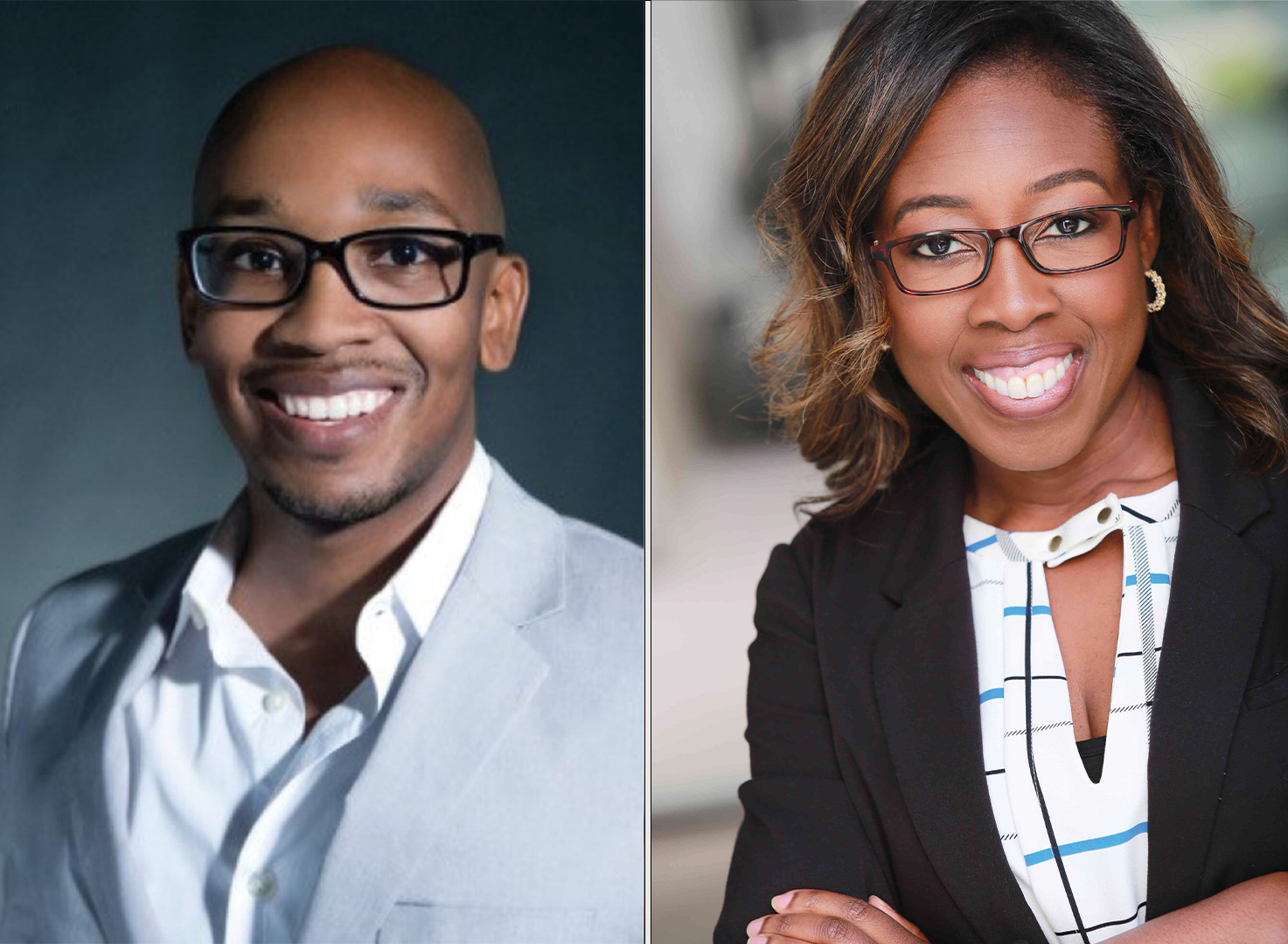 "There are significant disparities in cancer outcomes across race and ethnicity; this is unacceptable and must be addressed urgently and thoroughly. Increasing diverse representation among care providers is one overdue step toward improving the equity and quality of cancer care," said Robert W. Carlson, MD, Chief Executive Officer, NCCN. "Unfortunately, we have a long way to go, and the people doing this crucial work are often underfunded and overburdened. We're happy to be able to use NCCN's existing infrastructure to address some of that burden. Doctors Mayes and Erhunmwunsee are tremendous leaders with a clear vision for the future. We're honored to have them at the forefront of this forum propelling academic centers to help all people with cancer live better lives."
Recent studies have found the cancer mortality rate is 19% higher for Black men in America than White men, and 12% higher for Black women over White women.1 There are many different reasons for these disparities, including the impact of structural and interpersonal racism and social determinants of health. Research shows that following clinical guidelines is one way to reduce this imbalance in outcomes.2,3 Having diverse representation among health care providers—increasing trust and reducing opportunity for bias—is another.
Racial and ethnic minorities are critically underrepresented across oncology and particularly in leadership positions. Black people currently represent 12.7% of the U.S. population, but only 5% of active physicians; likewise, Hispanic people are 18.1% of the overall population and just 5.8% of doctors. When it comes to people in leadership positions, it falls to 3.5% and 3.8% respectively.4
The National Cancer Institute (NCI) has announced that all centers will need to design and implement a plan to increase diversity in faculty and workforce in order to remain eligible for federal designation and funding. The NCCN DEI Directors Forum will work together to provide support and resources in the development of these important plans, among other initiatives, to improve equity in cancer care systems.
"I am honored to serve as the inaugural chair of the NCCN DEI Directors Forum at such a pivotal time in our nation," said Dr. Mayes. "The last several years have drawn into sharper focus the role that structural discrimination has played within the United States health care system. As a health care community, we have an obligation to act—I look forward to working with the NCCN DEI Directors Forum Members in advancing diversity, equity, and inclusion at all levels of cancer care."
Dr. Erhunmwunsee added: "In order to achieve cancer health equity, cancer centers must identify and eliminate structural barriers and practices that undermine workforce diversity, equity and inclusion. Initiatives that promote DEI must be truly prioritized by center directors and top system leadership with the appropriate funding and resourcing, otherwise, historically excluded groups will remain marginalized. I look forward to partnering with this forum of DEI leadership as we develop and implement policy and practice initiatives that advance DEI at a national level."
The NCCN DEI Directors Forum will provide a venue to share challenges and best practices in advancing DEI initiatives in a timely fashion. The group will meet multiple times a year, both virtually and in-person, to formulate recommendations for the development of new and updated policies and practices to support DEI efforts.
The full list of forum members includes:
Julie Brabbs, MBA, University of Michigan Rogel Cancer Center
Paul M. Buckley, PhD, Fred Hutchinson Cancer Center
Luis G. Carvajal-Carmona, PhD, UC Davis Comprehensive Cancer Center
Chyke A. Doubeni, MD, MPH, The Ohio State University Comprehensive Cancer Center - James Cancer Hospital and Solove Research Institute
Felicity T. Enders, PhD, Mayo Clinic Comprehensive Cancer Center
Cathy Grant, MPA, CDM, Moffitt Cancer Center
Carmen E. Guerra, MD, MSCE, FACP, Abramson Cancer Center at the University of Pennsylvania
Antwione M. Haywood, PhD, Indiana University Melvin and Bren Simon Comprehensive Cancer Center
Dina George Lansey, MSN, RN, The Sidney Kimmel Comprehensive Cancer Center at Johns Hopkins
Quan P. Ly, MD, Fred & Pamela Buffett Cancer Center
Elisabeth Martinez, PhD, UT Southwestern Simmons Comprehensive Cancer Center
June McKoy, MD, MPH, JD, MBA, LLM (Hons), Robert H. Lurie Comprehensive Cancer Center of Northwestern University
Beverly Moy, MD, MPH, Massachusetts General Hospital Cancer Center
Cynthia Owusu, MD, MS, Case Comprehensive Cancer Center
Camille Ragin, PhD, MPH, Fox Chase Cancer Center
Elisa Rodriguez, PhD, MS, Roswell Park Comprehensive Cancer Center
Faye Rogers, PhD, Yale Cancer Center/Smilow Cancer Hospital
Vetta Sanders Thompson, PhD, Siteman Cancer Center at Barnes-Jewish Hospital and Washington University School of Medicine
Ila Saunders, PharmD, BCOP, UC San Diego Moores Cancer Center
Elizabeth Travis, PhD, The University of Texas MD Anderson Cancer Center
Rodney O. Tucker, MD, FAAHPM, O'Neal Comprehensive Cancer Center at the University of Alabama at Birmingham
Ana I. Velázquez Mañana, MD, MSc, UCSF Helen Diller Family Comprehensive Cancer Center
Tomya Watt, MBA, Memorial Sloan Kettering Cancer Center
Tammara Watts, MD, PhD, Duke Cancer Institute
Sharon Weber, MD, FACS, University of Wisconsin Carbone Cancer Center
"NCCN's work has always been rooted in the pursuit of equity in cancer outcomes by making sure every patient has access to care according to the latest evidence-based expert consensus recommendations," said Dr. Carlson. "Our ongoing work with the NCCN DEI Directors Forum will help us continue to hold ourselves accountable and make sure we are always moving in the right direction."
NCCN convened a working group in 2020 in collaboration with the American Cancer Society Cancer Action Network (ACS CAN) and the National Minority Quality Forum (NMQF), which created a Health Equity Report Card (HERC)—a series of 17 actionable, measurable recommendations to reduce disparities in cancer care. A pilot project evaluating the feasibility of implementing the HERC as a tool for improving the quality and equity of care nationwide is ongoing. More on this project will be announced as part of the 2023 World Cancer Day "Close the Care Gap" campaign on February 4. Visit NCCN.org/wcd to learn more.
# # #
About the National Comprehensive Cancer Network
The National Comprehensive Cancer Network® (NCCN®) is a not-for-profit alliance of leading cancer centers devoted to patient care, research, and education. NCCN is dedicated to improving and facilitating quality, effective, equitable, and accessible cancer care so all patients can live better lives. The NCCN Clinical Practice Guidelines in Oncology (NCCN Guidelines®) provide transparent, evidence-based, expert consensus recommendations for cancer treatment, prevention, and supportive services; they are the recognized standard for clinical direction and policy in cancer management and the most thorough and frequently-updated clinical practice guidelines available in any area of medicine. The NCCN Guidelines for Patients® provide expert cancer treatment information to inform and empower patients and caregivers, through support from the NCCN Foundation®. NCCN also advances continuing education, global initiatives, policy, and research collaboration and publication in oncology. Visit NCCN.org for more information and follow NCCN on Facebook @NCCNorg, Instagram @NCCNorg, and Twitter @NCCN.
---
[1] Siegel RL, Miller KD, Fuchs HE, Jemal A. Cancer Statistics, 2022. CA: A Cancer Journal for Clinicians 2022;72:7-33.
[2] Bristow RE, Powell MA, Al-Hammadi N, et al. Disparities in ovarian cancer care quality and survival according to race and socioeconomic status. J Natl Cancer Inst. 2013;105(11):823-832. doi:10.1093/jnci/djt065
[3] Ubbanou C, et al. Disparities in the receipt of the National Comprehensive Cancer Network (NCCN) guideline adherent care in triple-negative breast cancer by race-ethnicity, socioeconomic status, and insurance type. J Clin Oncol. 2020;38(suppl 15):1080.
[4] Morgan A, Shah K, Tran K, Chino F. Racial, Ethnic, and Gender Representation in Leadership Positions at National Cancer Institute–Designated Cancer Centers. JAMA Netw Open. 2021;4(6):e2112807. doi:10.1001/jamanetworkopen.2021.12807